[Home] [About Me] [Pictures] [Ninja] [Links] [Guestbook]

My 1994 Miata

Lil Blue's Basic Stats

Color - Laguna Blue (one of 2228 ever produced)
Engine - 1.8 liter, 16 valve inline four
Package - Using The Miata Field Guide, I've determined that mine is an A-package
Transmission - 5 spd manual, of course

Here are some old pics in front of my house.

The people originally behind the creation of the Miata are geniuses. Just look at the body from all angles and you'll know what I mean. The sleek, curvy body lines aren't too plain or too wild. They're just right. It's almost a sin to ruin it with some of the wide body kits out there. (Don't get me wrong, I like the Racing Beat front bumper, but the side sills just aren't subtle enough for my tastes) Maybe it's good that I'm a broke college student.
Modifications:

- OEM R-package rear lip spoiler
- OEM Front air dam
- OEM Front & Rear mud guards
- Brainstorm Low Profile Headlights
- Moss Motors Twilight Kit
- K&N Air Filter
- Code Alarm 911 w/ shock sensor
- a few other little things

Future Mods:

- OEM 15" rims from 1999-2005 Miata
- Sticky tires for autocrossing
- Upgrade my suspension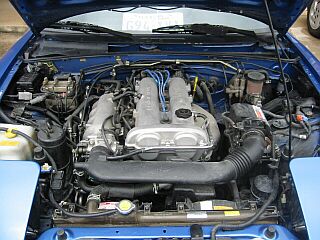 I was almost too ashamed to post this
pic of my dirty, unmodified engine =)

January 18, 2002 - It was almost midnight, and the light rain had left a coat of water on the roads. There I was on 281 south heading towards home. I wasn't too familiar with that area, and coupled with the fact that it was dark, I didn't exactly know when the exit to I-35 north would pass. As I saw the ramp to I-35 north, I realized I was taking Lil Blue much too fast into the turn. (Note: at this point, 281 is curving right while the ramp curves somewhat sharply to the left) I couldn't brake, because I knew that I would definitely lose control. So I went into the turn going 50 mph with a tight grip on the steering wheel, expecting the worst. About halfway into the turn, I felt my rear wheels slipping. I tried to compensate by turning the wheel to the right, but my efforts were to no avail. Suddenly I saw the left concrete wall getting closer....then....BANG!!!
What's the moral of the story?
Don't be a freakin moron.
Copyright © 2002 Rod-J. All rights reserved..